GLWA Welcomes Its New Board Members for 2021
On April 12, 2021, the Geneva Lake Women's Association inducted a new Board of Directors during a ceremony held at Tuscan Tavern & Grill in Lake Geneva. Former president Francesca (Missy) Sell will now serve as Parliamentarian, and Cathy Stoodley has taken the position of president.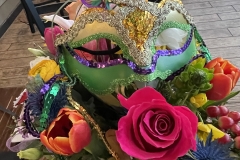 Also elected to the board were:
Vice President – Treasure Sperry, Secretary – Deb Otlewis, Treasurer – Georgia Ichen, Internal Director – Melissa Kepler, Membership Chair – Laurie Hallmark
And an additional congratulations went to:
Treasure Sperry – New Member of the Year
Melissa Kepler – Member of the Year
Laurie Hallmark and her social committee deserve special thanks for organizing this Mardi Gras-themed dinner, as well as the personnel at Tuscans.
As our non-profit enters its 57th year of service to Greater Walworth County, GLWA looks forward to continuing to serve our friends, neighbors, and communities