"Anchors Aweigh" GLWA Picnic / General Meeting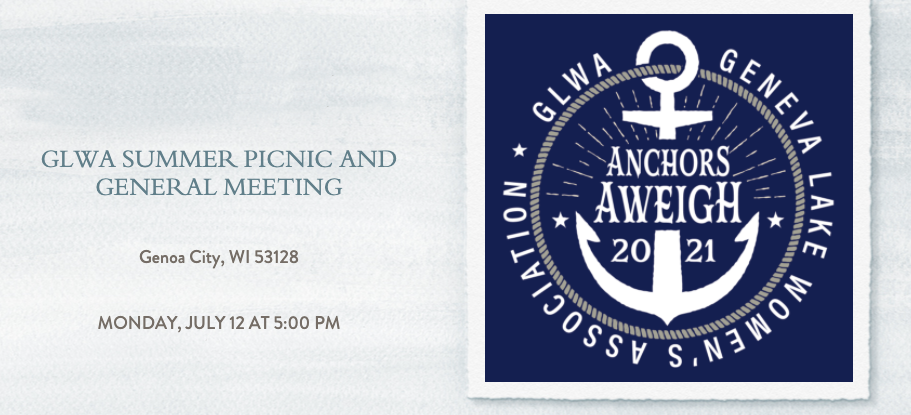 Please join us in your Navy-themed attire for our annual Summer Picnic & General Meeting! GLWA members and guests are welcome.
The meeting will be held on July 12 in Genoa City (address to be provided in evite or from GLWA member)
Catering by LD's of Twin Lakes: we will have pulled pork, pulled chicken, and all the regular barbecue fixings! The cover fee for this event is $20: $15 to cover the cost of food and beverages, with the remaining $5 as an automatic entry into our charity Buoys and Anchors game. There will be a $1 buy-in fee to continue playing the game until one winner remains. The Grand Prize is a three-hour captained and catered rockin' 50's theme cruise of Powers Lake! (Date and time to be determined by winner and boat owner).
Please bring cash and a lawn chair if you can! Social hour begins at 5pm with the general meeting to follow.
Please RSVP by JULY 6th so we can give LD's a headcount. 😊
Ladies who would like to also attend as a Guest to learn more about us, please email membership@glwa.net
GLWA Members!
If you would like to sport some GLWA Anchors Aweigh swag, please use the Amazon links below to make your purchase!
Tank Top $15.28 https://amz.run/4fvN
Tote Bag $15.55 https://amz.run/4fv
Premium T-Shirt $15.06 https://amz.run/4fvU
Long Sleeve T-Shirt $17.70 https://amz.run/4fvX
Sweatshirt $25.16 https://amz.run/4fva
Pullover hoodie $25.06 https://amz.run/4fvb