Bicycle Safety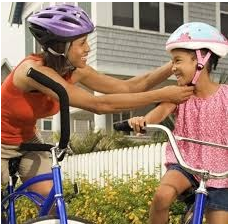 Bicycle Safety
Wear a helmet at all times.
Wear lace-up shoes or closed-toe shoes, not flip-flops, to ride a bike.
Ride on the right-hand side of the street, just like a car.
Walk your bike across the street.
Follow the traffic signs just like a motorist.
Ride single-file when there is more than one person.
Watch out for turning cars and cars backing out of a driveway.
Cross only at the corner, just like a good pedestrian.
Ride a bike that is the correct size for you.
Take care of your bike—keep it in good working order and put it away when you are finished riding.
Proper Helmet Fit
Helmets come in various sizes, just like hats. Size can vary between manufacturers. Follow the steps to fit a helmet properly. It may take time to ensure a proper helmet fit, but your life is worth it.
How to Avoid Common Bike Crashes
For Children