Fire Safety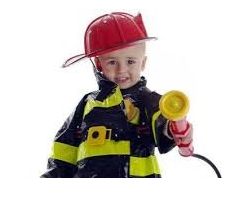 Fire Safety
It is very important to demonstrate and practice with children the correct way to react to a fire in their own home.
Stop, drop, and roll if your clothes catch on fire.
If there is a fire, crawl on the ground under the smoke to escape.
If there is a fire in your house, do not hide—go outside.
Dial 9-1-1 from a neighbor's house if there is a fire.
Never play with matches.
Do not play near an open fire.
Have a smoke detector and demonstrate how it sounds and what to do when it goes off.
Make sure that there is at least one window that can be open in each upstairs room, in case that is the only way out. If there is smoke outside a bedroom door, and the door is hot, children should put something under the opening at the bottom of the door, turn on their light and go to their window so someone will see them.
Read more about Fire Safety for Children