Water Safety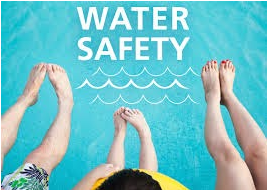 Water Safety
Water can be fun but dangerous. It's important to practice water safety rules when swimming.
Swim with a buddy in a supervised area.
Follow the rules posted at a swimming pool or beach.
If you get tired while swimming, don't panic, just float on your back. Use slow, gentle motions and call for help if necessary.
Look before you leap into a lake or river when you can't see the bottom.
Don't just pack it—wear your life jacket on a boat. It's the law! Children twelve and under must wear a life jacket on a boat.
When there is thunder, always get out of the water immediately. Lightning is usually close by.
Wear sunscreen even if it is a cloudy day.