Ladies Day Luncheon
Geneva Lake Women's Association presents our annual Ladies Day Luncheon
This event Supports our Philanthropic efforts throughout
Greater Walworth County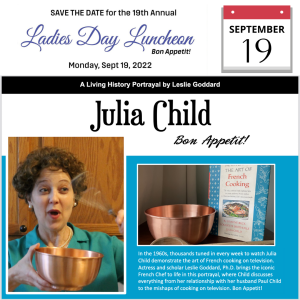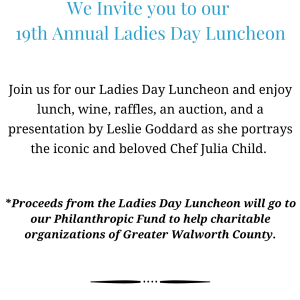 11 am Wine Reception, Online Auction, and Raffles
Lunch followed by Leslie Goddard in Julia Child, Bon Appetit!
This portrayal by,
historian Leslie Goddard, Ph.D.,
will take us back to
the 1960s, when thousands tuned in every week to watch Julia Child demonstrate the art of French cooking on television. Actress and scholar Leslie Goddard, Ph.D. brings the iconic French Chef to life in this portrayal, where Child discusses everything from her relationship with her husband Paul Child to the mishaps of cooking on television. Bon Appetit!
---
Enjoy your time connecting with old and new friends and bidding on the many raffle items, not to mention our Online Auction. Your donation supports our Philanthropic efforts throughout Greater Walworth County
GLWA is a 501 c3 39-1549915